Maddie in Pink & Raegan: Supernova Girl
These two girls are sisters, friends, and have an amazing story to share. Maddie and Raegan's mom, Melissa, wrote a letter to Red Aspen to give us a sense of who these girls are.
"Maddie. Our first born came into our lives 10 years ago and became the center of our whole world. She has taught me far more about life than I feel like I'm teaching her. She is strong willed, determined, smart, creative, and so loving. She enjoys spending time with her family, hanging out with her friends making up dance videos, going out for a Starbucks to chat about life, and listening to music. From worship music at church to creating musicallys on her iPod, this girl loves to sing and dance. Maddie picked up a love for cheer and tumbling just a few years ago and their team's motto 'small but fierce' couldn't be more of a testament to this girls attitude to go after what she wants.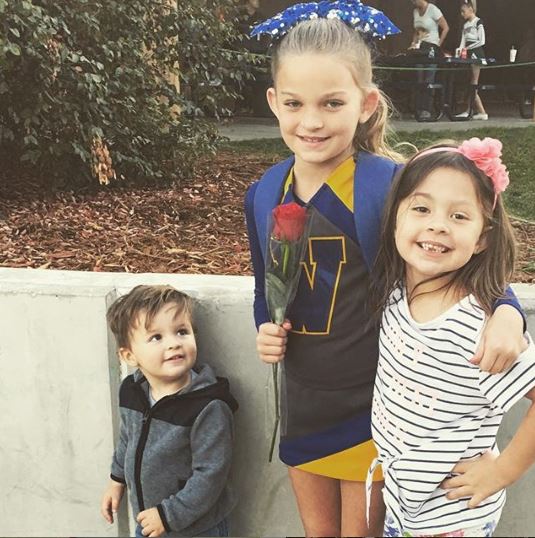 Recently we were given a devastating diagnosis that Maddie has a inoperable brain tumor. She now puts all her strength, energy, and positivity towards fighting this unfair fight. She is my inspiration and I don't know anyone as strong as she has had to be."
"Raegan. My sweet Raegy was quiet and snuggly from the first second she made her appearance into this world 7 years ago. She's more on the shy side but has a sense of humor that keeps us laughing and on our toes. She loves to follow in her big sister's footsteps and will only participate in most activities if Maddie is right alongside her showing her the ropes. Raegan has an artistic side and loves to write stories and paint pictures. She's an eager learner and naturally so good at dance and tumbling.
You can mostly likely find her in the living room doing cartwheels and learning cheerleading stunts with Maddie. Raegan now cheers her sister on to regain the strength and confidence she once had before the diagnosis. Raegan's cheerful and playful spirit shines through even when we're going through tough times."
Follow along and support the journey of Maddie, Raegan and their family.
Maddie & Reagan's Favorite Quote:
"First my sister, forever my friend."
Maddie and Raegan were nominated by Cassie H.
I remember the day I got a call saying "It's time to come to the hospital," and I met the Moore family there. And I will never forget their strength, their love for each other, and their bravery in those moments of learning Maddie's diagnosis."
To purchase the Maddie in Pink or Raegan: Supernova Girl Nail Dashes, contact your Brand Ambassador or shop here.